With companies and people becoming more concerned with security, photo ID's are the answer.  Customers can easily determine that the person in their home represents your company.  They are available in both horizontal and vertical styles.  The credit-card size makes them easy to read.  Another security option in businesses is the numbered visitor or vendor badges which allow you to track who is visiting your place of business.
Please see below for the variety of methods to secure the photo ID to your shirt.
For helpful hints on how to take the best pictures that your employees can be proud of, please see the right sidebar.

Photo ID Holders & Fasteners
The 3 most common attachments are the magnetic pocket, clip or lanyard.  There are other options available – the regular bar magnet on thicker plastic, armband holders and reel clips.  
Please note these on the order form.  Additional holders and fasteners can be purchased separately.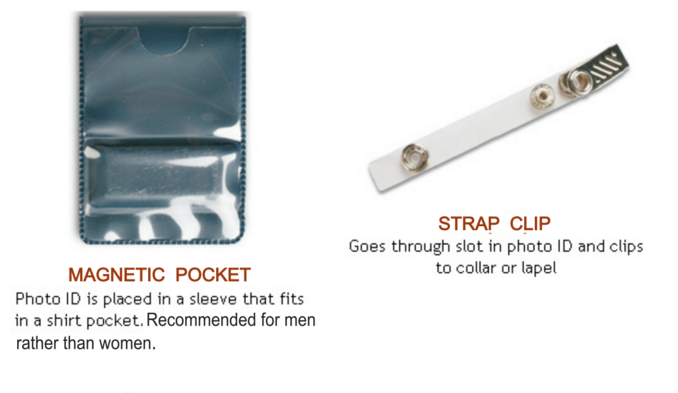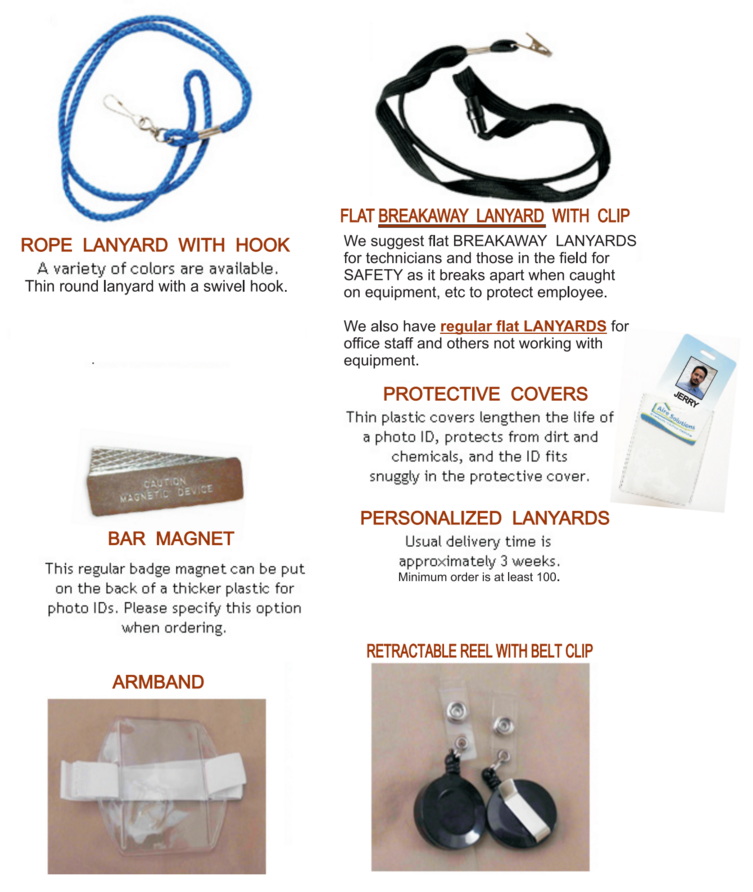 PHOTO ID
HELPFUL 
HINTS
Background should be a solid color.
Subject should stand 2 feet away from the background with his/her body at a 35-45° angle but face looking at the camera. This should eliminate shadows behind the person's head.
Take photo from mid-chest level up.  We will frame the subject so all pictures look consistent.  Leave space above the person's head.
PLEASE  DON'T  CROP  PHOTOS.
Use a flash with photographer standing approximately 6-8 feet away from the subject.  INSIDE  PHOTOS:  Soften light in room (close blinds, etc. to cut down on reflected light).  OUTSIDE  PHOTOS:  Determine the best place to take the photos without shade (even from caps on their heads).
When you email the photos, please either rename each photo or include full name and picture number in the comment part of the order forms.
If there are any questions, please contact us. We want your badges to positively represent your company and so the wearer is proud of it!