THESE ARE NOT THE ONLY GIFTS WE CAN MAKE FOR YOU.  THESE ARE JUST IDEAS FOR YOU.  NO MINIMUMS.  POSSIBLE PERSONALIZATION OF AN ITEM YOU HAVE.  PLEASE CONTACT US WITH INFORMATION.
FOR THE OFFICE
Pen sets and holders, post-it notepad holders for your desk – available in wood, metal and leatherette – business card holders – variety of pens – leatherette notepads and portfolios – and so many more items – all waiting to be customized just for you.

BUTTONS & FUN BADGES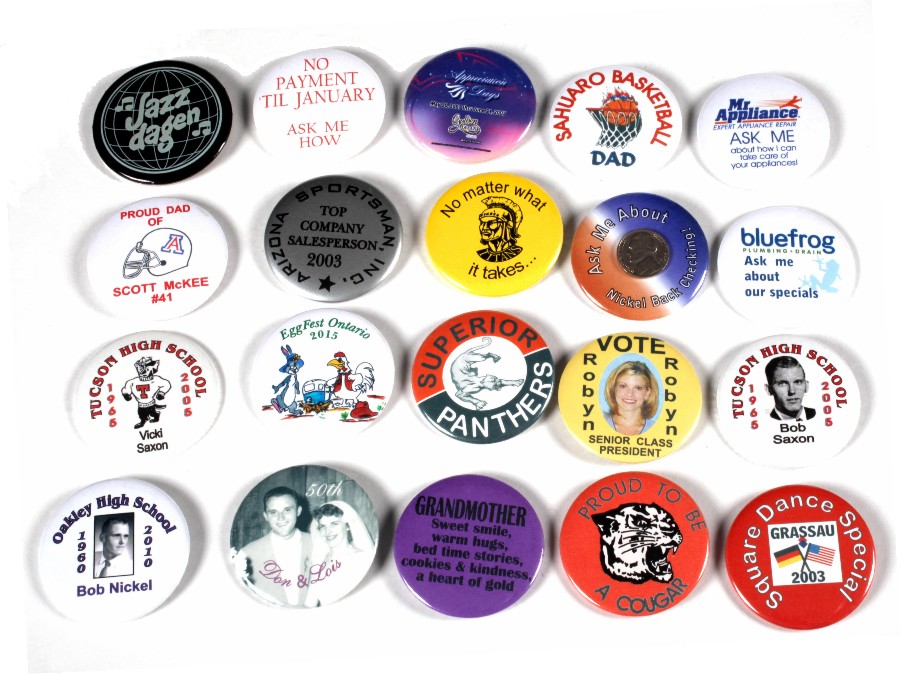 Buttons can be used for a variety of purposes:  promoting your business, school event, marketing an occasion, or a reunion – the ideas are endless!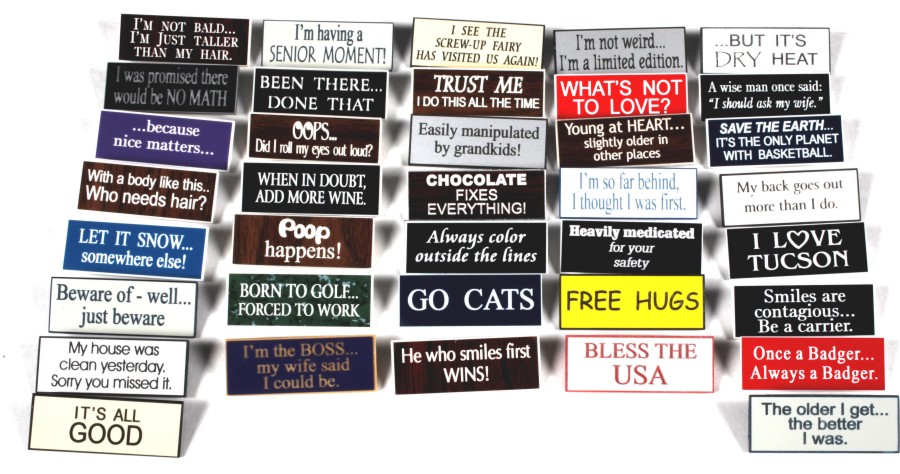 Fun badges are just that –FUN!! Lots of cute sayings or come up with one of your own.  Enjoy!!
Click to see some of our favorites
ANY PROMOTIONAL ITEM FOR BUSINESS, SCHOOL OR ANY EVENT ARE AVAILABLE UPON REQUEST.  PERSONALIZED ITEMS SUCH AS PENS, MAGNETS, NOTEBOOKS, BALLOONS, ETC.
LUGGAGE TAGS & KEYCHAINS
There are a variety of keychains available in metal, wood  or leatherette in several shapes.  They can be given to  someone who just passed their test for a driver's license  or a new car.  Luggage tags can be personalized to reflect the travel destination, pictures of your  children, grandchildren or pets.  Luggage tags can be engraved on classic brass.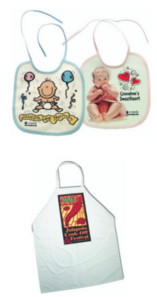 BIBS & APRONS & OTHER WEARABLES
Bibs can make a wonderful shower gift –  personalized for the new mom and her baby. Aprons for the gourmet cook or  wanna-be cook in your family! Smaller orders of a t-shirt to fit a special occasion can also be ordered.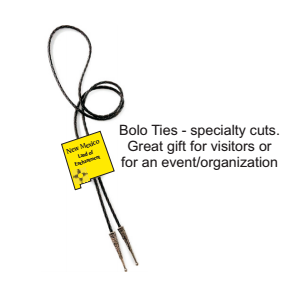 DOG TAGS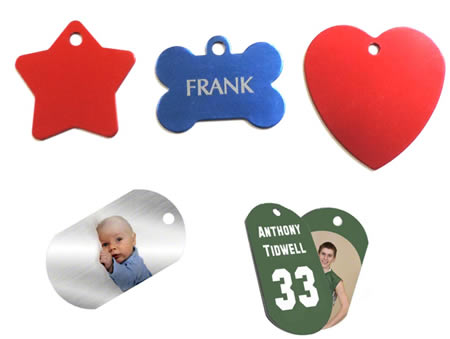 It is so important to have your pet's name and  your contact information just in case your lovely pet should get out of the house.  Also dog tags for you. Many options available.
 BOOKMARKS
Personalized for the avid reader  or new reader.
 CLOCKS
There are so many options available for you – wood, acrylic and metal or any combination. What a wonderful custom gift to give for an office or a special friend!

WOOD BOXES WITH KEEPSAKE PHOTO
The boxes pictured are lacquered boxes with the photo permanently infused into the tile insert.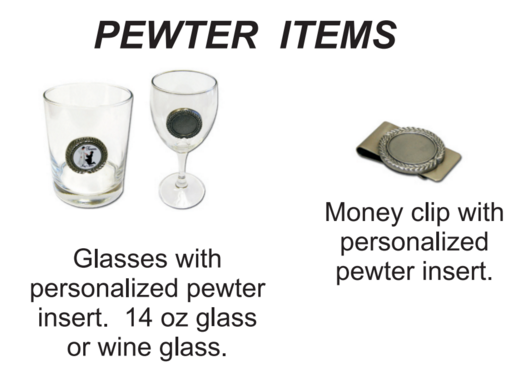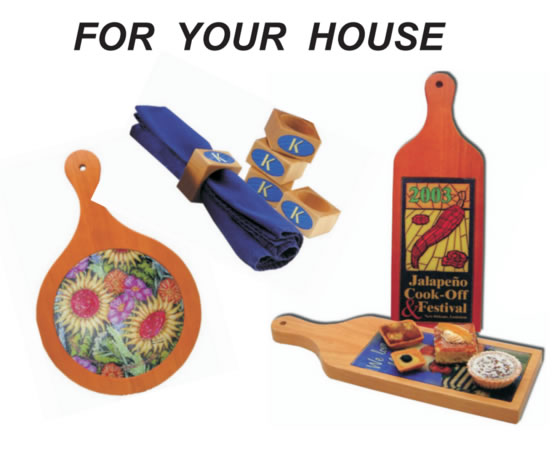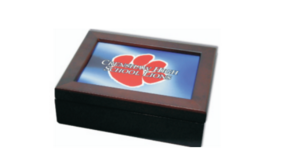 WOOD BOXES WITH METAL PHOTO
This wooden box has a metal insert that can be imprinted with any picture –  but the exciting characteristic of this one is that the picture can be removed and replaced.  Great gifts for grandparents!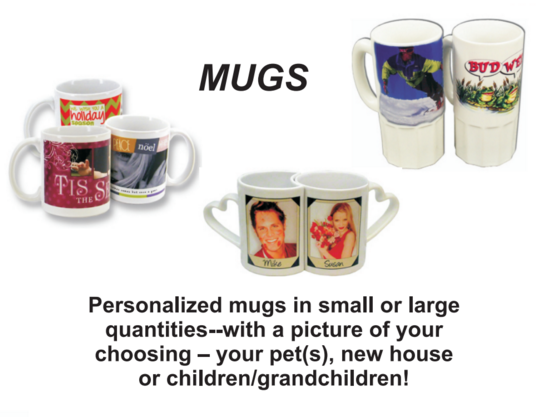 Many items are available for entertaining.  Personalized cutting boards or napkin holders to match your decor or choose a photo make this a spectacular gift!
Gifts For Every Occasion and Memory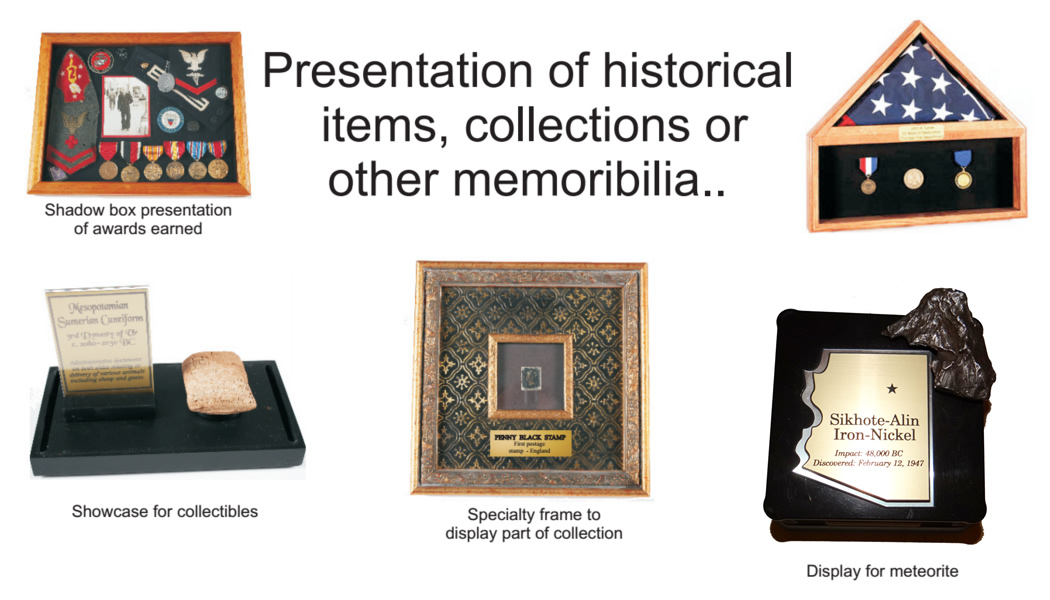 Variety of methods to exhibit sports memories. Full color – shadow box with engraved plates.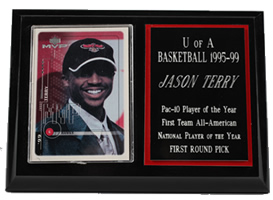 Display for sports card collection