Contact Submission Form
For general questions or to inquire about other Badgeman products please fill out the form below.  When ordering products from Badgeman there are a few things that should have in mind when you speak to one of our sales representatives:
When inquiring about your future order, please think about the following:
Size, Color, Logo, Backing and Preferred font.
A proof and quote will be emailed to you for your approval prior to completing the badge.
Request Form – We provide you with two (2) proofs at no charge.
---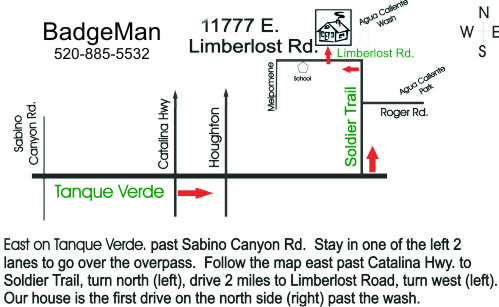 11777 E. Limberlost Rd.
Tucson, AZ  85749
Cross Streets – Northeast side of town.  Major cross streets: northeast of Tanque Verde and Houghton.
Hours:  9:00 am – 4:30 pm By Appointment
Phone:  520-885-5532
Fax:  520-749-8895
Email:  info@BadgeManAZ.com